What is security analytics?
As attack surfaces grow and the threat environment becomes more complex, organizations will inevitably face more challenges in managing and protecting their data from cyber threats. Security analytics helps address this challenge. 
Security analytics is an approach to cybersecurity that uses data collection, aggregation and advanced analysis to augment an organization's ability to assess, analyze and manage security risks. It allows organizations to make sense of volumes of security data flowing in and out of its network, enabling them to better protect their infrastructure from a potentially costly data breach or cyber attack.
Typically, security analytics solutions are deployed for rapid threat detection and response, real-time risk assessments and security posture management. Unlike traditional tools, solutions powered by security analytics bring more value to an organization by providing them with a comprehensive view of their environment as well as real-time actionable insights. 
Security analytics data collection 
Security analytics solutions collect large and diverse data sets from multiple sources and look for correlations and anomalies within the data, allowing organizations to gain in-depth insights about the state of their risk.  
For real-time incident detection and response, security analytics software ingests data captured from events and alerts throughout the network (e.g., endpoint and user behavior data, applications, operating system event logs, firewalls, routers, network traffic analyzers, virus scanners, threat intelligence feeds, and contextual data). This information is analyzed to proactively detect intrusions by hunting for anomalies such as malware, ransomware, suspicious traffic, or unusual application usage. 
For security posture management, security analytics software quantifies risk across the organization and prioritizes risk mitigation activities. Security analytics software ingests and analyzes data from asset inventories, software bill of materials (SBOM), configuration management databases (CMDBs), cloud environments, vulnerability scans, and other IT and security tools.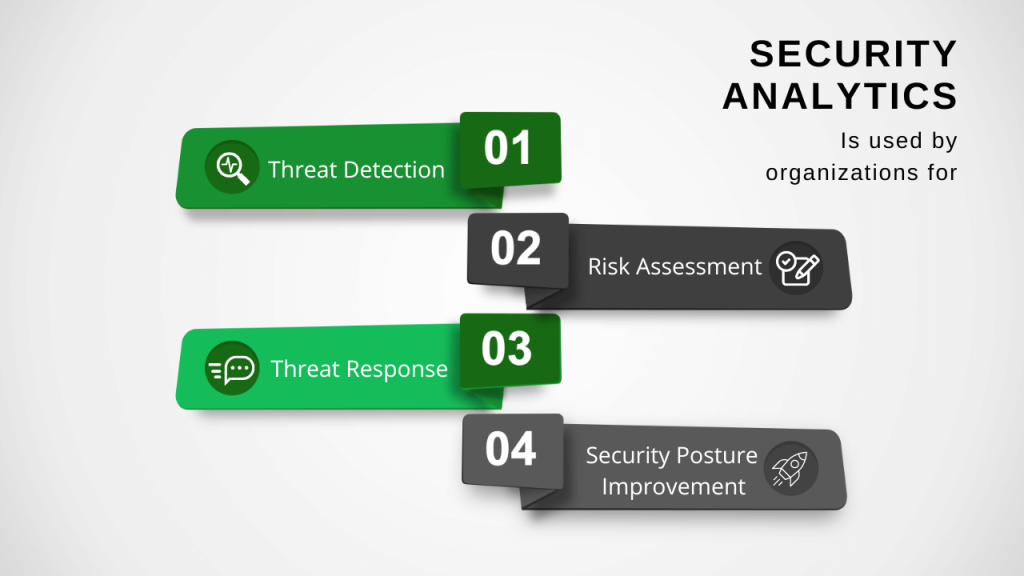 Building security analytics using artificial intelligence and machine learning
Many security analytics solutions leverage artificial intelligence (AI) and machine learning (ML) to normalize and correlate volumes of data for threat detection and response and for security posture management. AI and ML algorithms enable real-time analysis. For example, they can allow security teams to gain early detection of a cyber attack with actionable insights for stopping the attack. Similarly, advanced AI and ML algorithms can help organizations to build unified risk models that analyze their cyber risk, predict likely breach scenarios, calculate breach impact in dollars and develop action plans to improve their security posture and prevent cyber attacks. 
Benefits of security analytics
Security analytics bring several key benefits to organizations:
Proactive threat detection and response:

Security analytics enable tools to analyze a wide range of data sources, correlating incident and event information to detect threats in real-time.

As a result, organizations can quickly d

etect insider threats by user behavior, as well as identify suspicious activity early in the attack chain to improve response times. Security analytics also improves visibility into complex attack techniques, such as compromised credentials, lateral movement, and data exfiltration. 

Improved forensic capabilities:

Security analytics improves forensic capabilities with information about the origin of an attack, how it happened, and the extent of the damage to help build an accurate attack timeline. Being able to construct and analyze an incident in-depth helps organizations improve security defenses so similar events don't happen in the future. 

Regulatory compliance:

A major benefit of security analytics is that it helps organizations stay compliant with government and industry regulations. Some regulations require monitoring and collecting of data for auditing and forensics, and security analytics can provide a unified view of data events across all devices. 

Attack surface management:

Security analytics improves attack surface management by continuously monitoring and assessing risks associated with all assets and vulnerabilities across a broad range of attack vectors. Full visibility of the threat landscape allows security and IT teams to quickly identify and address security gaps and prevent potential cyber-attacks. 

Security posture and assessment:

Security analytics coupled with risk assessment tools allow security teams to

gather information about a network's cybersecurity framework, its security controls, its vulnerabilities, and any gaps. Once this information is identified, tasks such as asset discovery, vulnerability assessments, and cyber risk quantification can be

automated

to help improve security posture. 

Automated remediation workflows:

Security analytics enables quick remediation of vulnerabilities by automating and optimizing organizational workflows. Security and IT teams can protect organizations

at scale and move beyond manual workflows to mitigate cyber risk faster.

Operational and board-level reporting:

Security analytics allows for

the collection, analysis, and reporting of cyber risk information in business and operational terms. Security teams and leadership can use these metrics and performance indicators to make informed decisions about their organization's security risk. 
Security analytics use cases 
Security analytics use cases for threat detection and threat response: 
Security analytics provides a number of use cases for threat detection and threat response, including: the proactive analysis of network traffic and of sensitive systems to pinpoint suspicious activity, the identification of improper account usage and compromise, the detection of data exfiltration by attackers, and the immediate creation of security alerts to ensure a rapid response to cyber attacks. Security analytics are also used to detect insider attacks by monitoring users' activities and identifying anomalous behaviors, such as unusual login times, unauthorized database requests, abnormal email usage, and unauthorized downloads or copying of sensitive data. In addition, security analytics assists organizations with adherence to government rules and regulations related to data storage and protection.  
Security analytics use cases for assessing risk and improving risk posture:
Aside from threat detection and response, security analytics are used to assess an organization's risk posture and improve its readiness to react to and recover from security events. With security analytics, organizations are able to accurately discover and inventory all IT assets, identify and prioritize risks through continuous vulnerability assessment and quantify cyber risk in dollars. In addition, security analytics are used to analyze different remediation scenarios to identify and prioritize strategies that efficiently address an organization's most critical security issues and reduce the most risk.
Security analytics platform capabilities 
The following capabilities of security analytics are used for threat detection and threat response:
Endpoint traffic analysis

Cloud workload traffic analysis

Security incident and event management (SIEM) 

User and entity behavior analytics (UEBA)

Malware and anomaly detection with data from intrusion detection systems, next-gen firewalls, endpoint detection systems, and cloud security technologies

Threat intelligence

Application usage and analytics

DNS analysis

Geo-location and IP address context
The following capabilities of security analytics are used to perform risk assessments and improve security posture:
Network and traffic sensors
Analysis of security controls and measures 

Continuous monitoring of IT assets and potential attack vectors
Security dashboards 

Operational and board-level reports
Vulnerability remediation recommendations and instructions
Integrations with orchestration and IT service management (ITSM) systems 
A summary of security analytics tools
To detect and respond to threats, organizations can use the following security analytics tools: 
Behavioral analytics tools

– used to gather data from many sources and identify patterns in user, application, and device behavior that indicate a security threat because of anomalous activity. 

Forensics security analytics tools

– used to investigate past or ongoing attacks to identify the root cause of compromises to help remediate vulnerabilities. 

Network analysis and visibility (NAV) applications or devices

– used to analyze network traffic from end-users and applications. This includes network discovery, flow data analysis, metadata analysis, packet capture and analysis, and network forensics.
To assess risk and improve security posture, organizations can use the following security analytics tools:
Cyber asset attack surface management (CAASM) tools

– used to continuously ingest data from IT and security tools to create a unified view of all assets within an organization. Asset criticality is incorporated into the data sets to help analyze cyber risk. 

Vulnerability assessment tools

– are designed to continuously scan systems to identify and prioritize vulnerabilities by leveraging

CVSS scores

. 

Cyber risk quantification tools

– used to unify cyber security data into a model that calculates cyber risk in dollars to help organizations allocate resources and prioritize mitigation actions.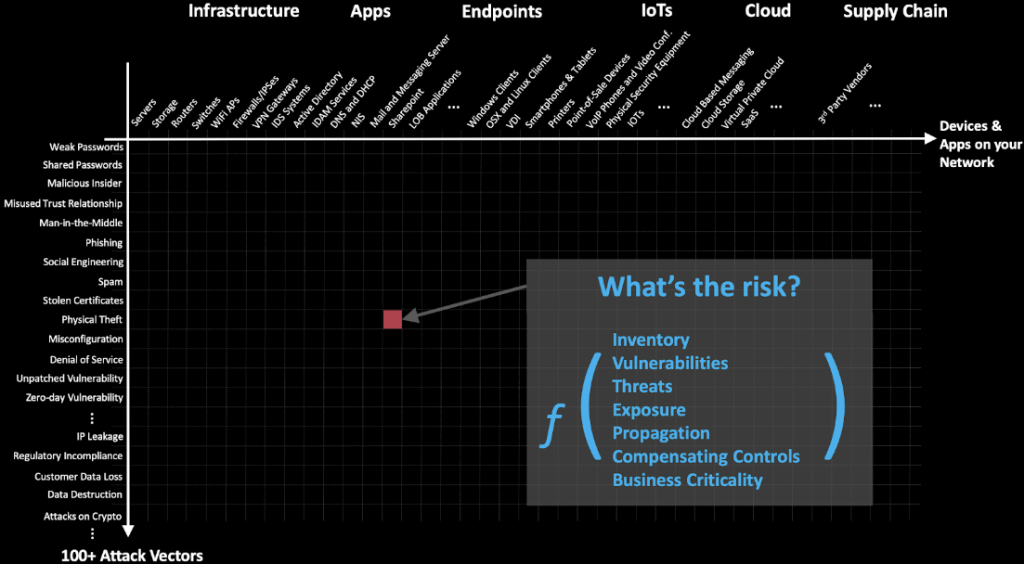 How to use Balbix's security analytics to create dashboards 
One of the benefits of a security analytics solution is that it can visualize data into dashboards that can provide actionable insights. Typically, information on the dashboards can be tailored to adhere to the needs and responsibilities of the audience. Security analytics dashboards can allow for faster threat detection and response across the organization. 
For a security posture management tool like Balbix, security analytics dashboards help in three key areas: asset inventory, vulnerability management and cyber risk quantification. 
Asset inventory
A security dashboard that reports on asset inventory will group assets by attributes like device type, geographic location or operating system. This enables security teams to identify problem assets and execute asset-related operational initiatives.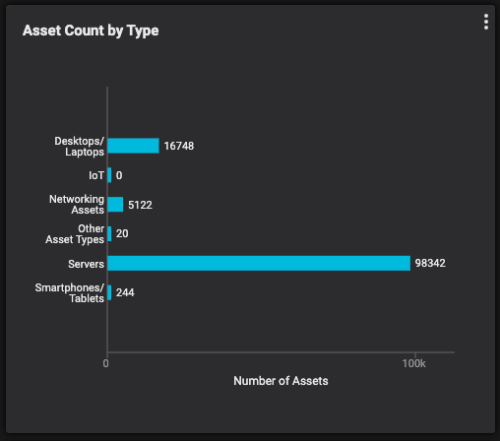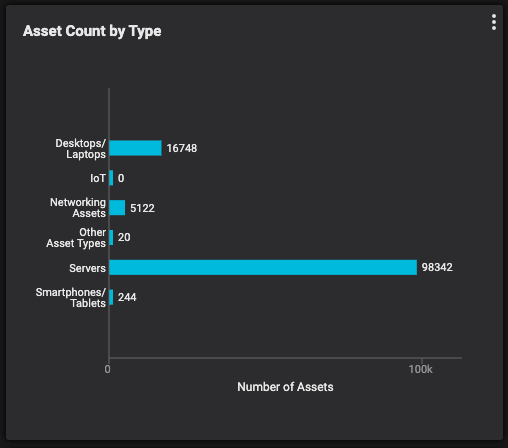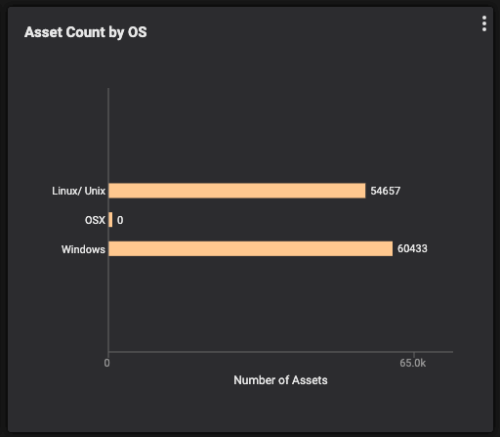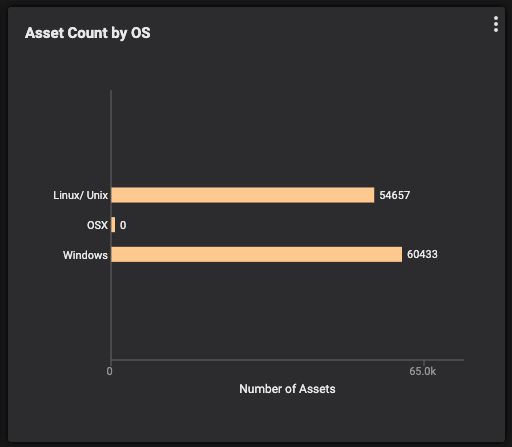 Vulnerability management
A security dashboard for vulnerability management provides analytics around unpatched assets by attributes like device type, operating system, risk owner and geographic location, and highlights top CVEs and their level of threat. In-depth information from these dashboards is used by security teams to resolve vulnerabilities rapidly and efficiently.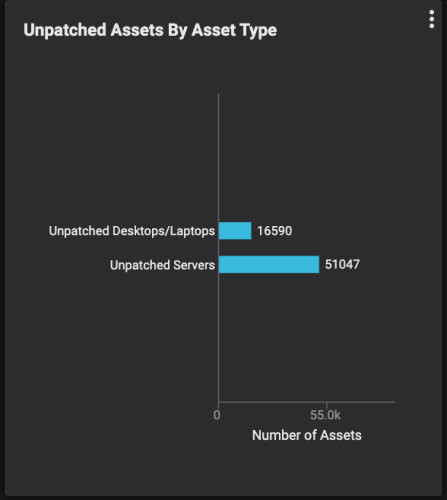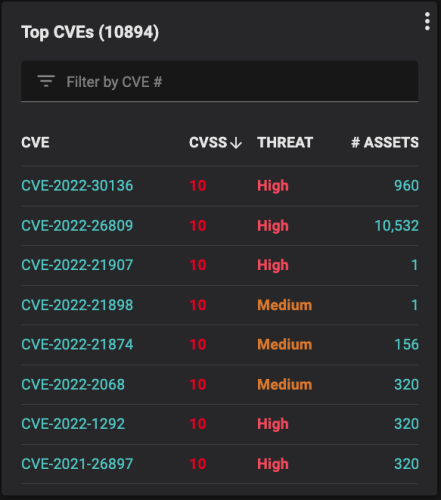 Cyber risk quantification
Lastly, a security dashboard that reports on cyber risk quantification will feature reports that measure cyber risk by breach likelihood and impact, and track risk in dollars by attributes like owner and business unit. Metrics like this are useful to drive alignment between security and leadership teams around cyber risk, as well as incentivize security teams to be accountable for completing fixes.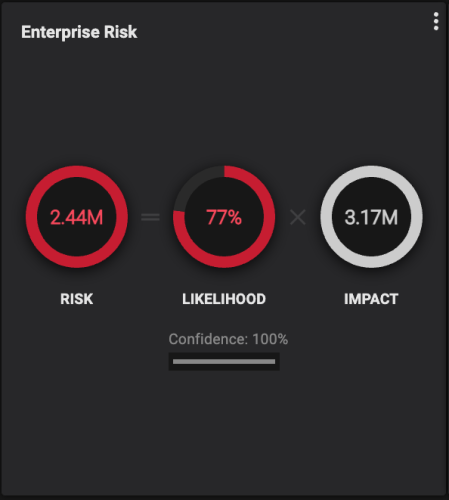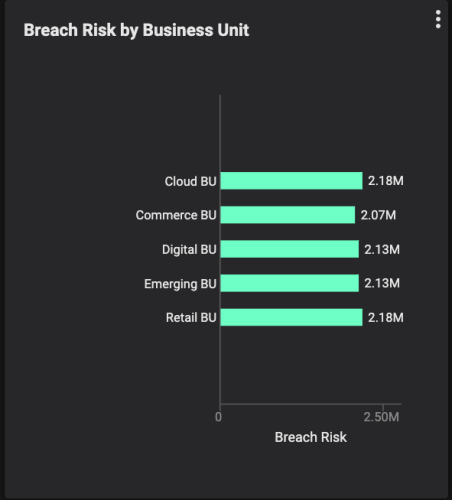 Frequently Asked Questions
What is security analytics?

Security analytics is an approach to cybersecurity using data collection, aggregation, and advanced analysis to help organizations discover, analyze and mitigate cyber threats targeting their business. Security analytics solutions help organizations detect and stop cyber attacks in real time and provide insights about the state of their assets and security controls, allowing them to meet compliance requirements and strengthen their security posture and overall cybersecurity readiness. Advanced analytics uses artificial intelligence (AI) and machine learning (ML) to process vast amounts of data and identify malicious activities from external threats (e.g., hackers, malware, bots) or internal threats and to discover, prioritize and remediate vulnerabilities.

Why is security analytics important?

Security analytics enables organizations to proactively secure sensitive assets and information using threat intelligence, threat detection capabilities, risk analysis, and security posture assessments. Without security analytics, it is nearly impossible to conduct the level of security monitoring required to detect potential threats reliably or assess an organization's readiness to fend off a cyber attack. To improve security posture management, security analytics provide a unified view of an organization's attack surface and breach likelihood and provide security teams with critical insights and metrics that enable effective decision-making.

Does your company need security analytics?

All organizations should use some form of security analytics. With sprawling attack surfaces and the sophistication of today's security threats, every organization has an increased risk of experiencing a cyber-attack. Security analytics provides threat detection and protects sensitive data and critical systems. It also provides ways for organizations to assess and improve their security posture to detect attacks better and recover from security events.