Having personally experienced the challenges that CIOs and CISOs face in managing cyber risk in my prior experience, I was eager to join Balbix, a mission-driven company on a fast-growth path and upward trajectory. Time flies, and I realized a few days ago that it has already been a year since I joined Balbix as the VP of Strategic Alliances and Channels. 
During this time, my primary charter has been to drive explosive growth through a strong partner ecosystem. Looking back, I am immensely proud to say that Balbix's partner ecosystem has grown significantly on multiple dimensions, and we have achieved tremendous growth. In this blog, I am excited to share some of the highlights of my first 12 months at Balbix and how our partner-first approach has been the driving force behind our success. 
Partner-First Approach: The Foundation of Our Success
The cybersecurity landscape in 2023 has presented CISOs and security leaders with unprecedented challenges. Tight budgets, consolidation pressure, increased government scrutiny, and a constant barrage of cyber threats have made it difficult to allocate resources and manage cyber risk effectively. Balancing the allocation of resources against cyber risks is a critical aspect that is occupying CISOs' mindshare. The mantra of "do more with less" is no longer a mere cliché, but has become the call to action. And of course, who do CISOs turn to to help them in times like this? Their trusted partners, SIs, VARs and other service providers who best understand their situation. 
At Balbix, we understand these challenges and it's our mission to help CISOs and security teams help navigate these hurdles while managing cyber risk in a better way. 
How do we achieve this? Embodying our core philosophy to constantly evolve the fabric of our company, we're now focusing more than ever on becoming a 'partner-first' organization. This mindset is more than just a strategic choice; we see it as the foundation of our success. We realize that our partners play a crucial role in times of transition as they guide both CISOs and select vendors. Our focus on creating win-win models with our partners has significantly grown our partner ecosystem over the past year. By placing our partners at the forefront of our business, we believe that we can together deliver transformational initiatives that address the challenges of cyber risk management through Balbix Security Cloud.
Through our dedicated effort to create strong partnerships, Balbix has become an indispensable ally in addressing the challenges of cyber risk management over the past year. During this time, our partner ecosystem, pipeline, and revenue have all grown significantly. The exponential growth we've experienced in our partner ecosystem, with: 
A remarkable 10x YoY revenue increase, including several multi-million dollar deals, demonstrates the immense value of collaboration. 
Our partners' contribution to our pipeline has surged from a mere 2% to an impressive 45%. 
This extraordinary progress speaks volumes about the dedication and efforts my team has invested in cultivating and expanding our partner ecosystem. At Balbix, we value the vital role that our partners play in our success. We are committed to strengthening these collaborative relationships and expanding our partner ecosystem in the future
My favorite part of this blog is writing what some of our top partners had to say when I asked them for feedback on their relationship with Balbix. 
---
Jai Kumar, Global Head of Co-Innovation Network (CoIN) Solutioning and XR Labs (Tata Consultancy Services) appreciates the fruitful partnership with Balbix and their 'Partner First' approach:
Balbix's resolute commitment to a 'Partner First' approach and Balbix's cutting-edge, vertically agnostic technology have been instrumental in forging a successful, strategic collaboration focused on innovation. Together, we have been able to offer comprehensive, innovative cybersecurity solutions to customers across various verticals, including marquee names in BFSI, Utilities, and technology domains. The seamless integration of Balbix in the TCS Co-Innovation Network (COIN) framework has allowed us to embark on a journey of co-innovation, joint solutioning, and cross-leveraging capabilities resulting in shorter development cycle time and rapid revenue recognition.

Saurabh's agile, fast tracked, action-oriented approach suggests that he is someone who values efficiency and speed when it comes to achieving joint goals. He has prioritized quick decision making and adaptability in working with us.
---
Chitresh Sen, Vice President – Cybersecurity Practice Head, Americas (Tech Mahindra), shares his experience collaborating with us:
Congratulations Saurabh, for completing a successful year at Balbix. You are one of the best partners I have ever worked with, your "Partner First" approach and unique ability to collaborate and quickly come up with a win-win solution even in complex situations are commendable. Our partnership has allowed us to stay at the forefront of cybersecurity innovation and resulted in quick revenue recognition for our business.

We'll rock FY'24 as Balbix has proven to be an invaluable partner as we navigate the changing cybersecurity landscape for our customers. The focus on automation, real-time risk assessment, scan-independent technology, consolidation, advanced cyber risk quantification, and risk-based vulnerability management make Balbix an essential solution for our customers seeking to adapt to market changes and stay ahead of threats.
---
Sivakumar Thiyagarajan, Sr. Vice President – Strategic Alliances (Microland), acknowledges the value of Microland's partnership with Balbix:
By joining forces with Balbix, we have successfully integrated their innovative, real-time cybersecurity solutions into our offerings, enabling us to better serve our clients in this ever-evolving market. Balbix's emphasis on automation and ease of reporting sets them apart, and we are confident that our partnership will continue to bring significant value to our customers' cybersecurity endeavors. I thank Saurabh for the collaboration toward joint success. 
---
A cybersecurity leader at a Top 2 VAR in the United States praises the effectiveness of Balbix's technology in addressing their clients' cybersecurity challenges:
Our partnership with Balbix has empowered us to help our clients address pressing cybersecurity issues.  Balbix's unique and pioneering technology streamlines attack surface visibility and vulnerability management efforts.  It enables businesses of any size to handle their cyber risk with greater ease and respond to threats much more effectively.  We are enthusiastic about maintaining our partnership with Balbix, so we continue to provide our clients with cutting-edge solutions for their cybersecurity needs.
---
The global head of cybersecurity of a Big4 Consulting Firm praises endorsing Balbix:
We are seeing a lot of interest in Balbix and believe that Balbix can help us address our clients' biggest challenges related to cybersecurity data analysis and cyber risk quantification. This positively impacts our advisory as well as our managed services.
---
Market Focus: Working with Partners Across Various Segments and Markets
Our approach to working with partners is based on creating strong relationships that enable us to provide tailored solutions to meet partners' specific needs of each partner and their customers. We work with a diverse range of partners, including Big 4 consulting companies, leading GSIs, and distributors operating out of markets worldwide, such as the US, UK, UAE, India, and Australia.
Our collaborative efforts with partners primarily concentrate on market segments like Banking, Financial Services and Insurance (BFSI), Telecommunications, Technology, and Hospitality. However, our vertical-agnostic and easy-to-deploy solution makes it convenient for partners to expand into various segments. Our commitment to working closely with our partners and placing them at the center of our business has been instrumental in us delivering groundbreaking results.
The Evolution of Balbix's Partner Enablement Program
At Balbix, we acknowledge the importance of empowering our partners with essential resources to effectively market and sell our solutions, ultimately contributing to mutual growth and success. This recognition inspired the development of our Partner Enablement Program, which has played a pivotal role in our accomplishments over the past year.
Our program aims to assemble a robust team of Balbix Certified Engineers, thoroughly trained in our solutions and capable of conveying their value to prospective clients. With access to cutting-edge technical resources and comprehensive training, our partners can confidently deliver and support our solutions for their customers.
In addition to providing training and certification, we have enthusiastically promoted our solutions alongside our partners through webinars, trade shows, and events. Our partners have been crucial in these endeavors, helping us extend our reach and forge connections across diverse market segments.
The Partner Enablement Program has been a driving force behind our remarkable growth in both pipeline and revenue. We remain devoted to maintaining this momentum by expanding our team, recruiting new talent, and continually enhancing the overall program.
How can you Engage and Win?
By partnering with us, you can unlock numerous revenue opportunities and enhance your clients' security posture. Our comprehensive suite of offerings for the partners includes:
1. Platform Management and Customization:  Streamlined Integration and Personalized Visibility for Your Security Posture
2. Cyber Asset Attack Surface Management (CAASM): Unparalleled Asset Visibility for Enhanced Security and Control
3. Risk-Based Vulnerability Management (RBVM) and Automation: Streamlined Solutions for Efficient Mitigation and Enhanced Cybersecurity Resilience
4. Cyber Risk Quantification (CRQ): Empowering Data-Driven Security Decisions and Enhanced Protection
5. Customized Reporting: Actionable Insights and Tailored Intelligence for Informed Cybersecurity Decisions
6. Risk Reduction and Management: Elevating Cybersecurity with Customized Measures and Real-Time Monitoring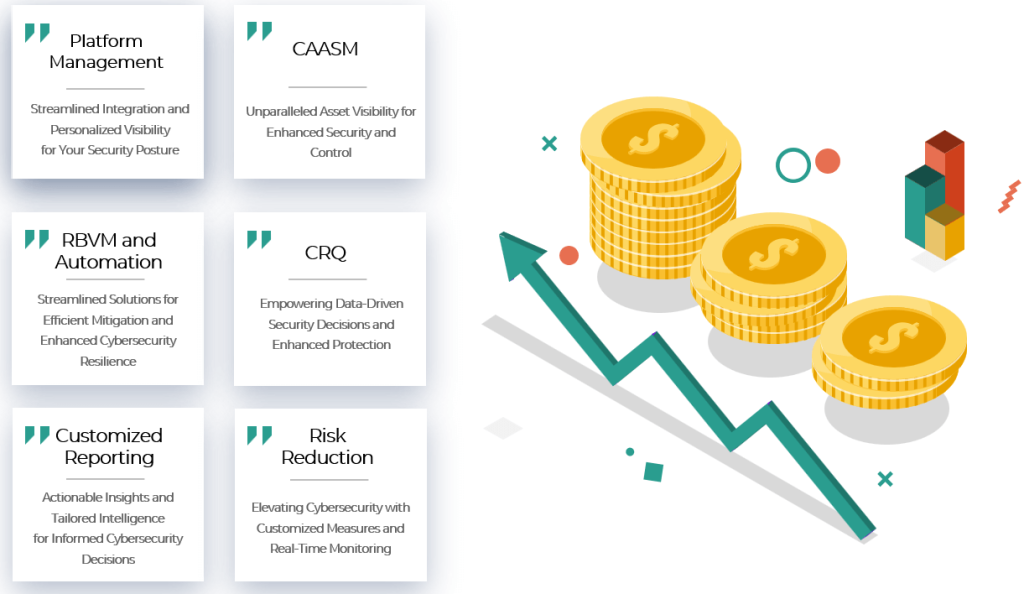 This collaboration not only benefits your clients but also allows you to grow and prosper in an increasingly competitive market. By joining forces, you can use our expertise and resources to find new opportunities and strengthen your current relationships.
Don't miss out on this chance to sign up and actively engage with us, as together, we can create a winning partnership. 
Conclusion: Continuing Success Through Partner-First Approach
In conclusion, I would like to thank our Partners and customers for their support. I am immensely proud of the work we have done in building our partner program from the ground up and driving explosive growth in our partner ecosystem. As a partner-first company, we believe that we can create synergistic partnerships that create shared benefits for our partners and continue to deliver transformational initiatives enabled by the Balbix Security Cloud. We are excited about what the future holds for Balbix and our partners, and we are committed to continuing this success.