Love may be in the air for all in the month of February, but for us infosec folks there are a lot of other, less desirable things also floating over the air waves (I mean networks, internet, …).
While I usually write informative articles for CISOs and cybersecurity pros, there's just something about this time of the year that begs for something different.
This Valentine's Day, whether you're celebrating with your Infosec significant other, or whether you'd rather celebrate "Gal"entines, "Pal"entines, or "Nil"entines* with your cybersecurity person, here are 10 sweet nothings to never say to an InfoSec person, Valentine's Day or not:
*I made up this word for those of you who hate "Hallmark" holidays 😊

What could possibly go wrong?
Our users don't click links.
WordPress plugins are a good idea.
I clicked "Enable Content".
I didn't click on anything.
Oh yeah, everyone has access.
We had to roll back MFA.
Yes, it's the same password…
Patching will break critical systems.
I have disabled automatic updates.
So, what should you say to your infosec valentine?
You could go cheesy with: "Has anyone phished you lately? Because you're quite the catch!" Or super cheesy: "Your love is like a zero-day exploit. It took control before I even knew I was vulnerable." Or the slightly nerdy: "You've got the encryption key to my heart!"
And here's some more inspiration from around Twitter-verse, sure to bring a smile to any infosec pro: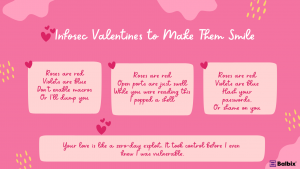 Roses are red
Violets are blue
Don't enable macros
Or I'll dump you
🌹
Vulns can be red
If software supply chain blindness makes you blue
Transparency like SBOM …
Can greatly help you!
🌹
Roses are red
Violets are blue
Hash your passwords,
Or shame on you
🌹
And here's one from all of us at Balbix to you, because we ❤️ you!
Some vulnerabilities are red
Some hackers are blue
But fear not, Balbix is here
To protect all of you!
Happy Valentine's Day, folks!
Note: All Infosec Valentines and Infosec Triggers were sourced from Twitter!