Each year, Gartner designates a select number of innovative companies as Cool Vendors in various market segments. Balbix is both humbled and exhilarated to be named as a "Cool Vendor" for 2018 in the Security and Risk Management market.
This year's report of Cool Vendors in Security and Risk Management Software for Technology and Service Providers, 2018, authored by analysts Deborah Kish, Elizabeth Kim, Avivah Litan and Matthew T. Stamper, states that organizations "are looking for more advanced technologies to continuously monitor for threats to minimize and mitigate risk to stave off cyberattacks."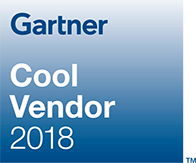 Gartner's recognition of Balbix reinforces the fundamental thesis that our company was founded upon – that all software is fragile because it is written (and used) by humans who occasionally make mistakes, just like you and me, no matter how hard we try. The best way for an organization to improve cyber-resilience is to continuously and systematically discover and monitor all points in its attack surface and analyze this information to predict likely breach scenarios and take appropriate mitigating steps. In practice this is quite challenging due to the massive number of data points that need to be observed and analyzed; Balbix's technology is designed to do exactly this at very large scale – intelligently and automatically.
Continuous and proactive attack surface measurement provides Balbix the opportunity to prioritize key actions and prescribe detailed fixes – compensating controls and processes— to help limit the impact of attacks before they happen, thus enabling the enterprise to avoid major breaches.
Gartner notes that this year's Cool Vendors "have innovative technology approaches using machine learning and artificial intelligence (AI) as part of a novel product offering." At Balbix, we comprehensively and automatically discover all devices, users and applications on-premises, in the cloud and beyond. We then leverage deep learning and advanced AI techniques to provide:
Continuous and automated assessment against 200+ potential attack dimensions
Contextualization of each IT asset and user for business risk
Prioritization of required security actions, based on business risk
Prescriptive and comprehensive fix recommendations for each action
This provides an unprecedented level of visibility and control of an enterprise's breach risk posture. This is in stark contrast to traditional penetration testing or vulnerability assessment, which are limited to a subset of enterprise applications and infrastructure, cover only a few of the 100+ attack vectors, and are non-prioritized and non-prescriptive.
In their report, Gartner states that Cool Vendor "innovative technologies have the opportunity to disrupt market dynamics". Balbix welcomes the opportunity to bring about a new way of thinking in the security market – by helping boards, executive leadership, and CIOs/CISOs and their teams take steps to proactively protect against breaches. The vast majority of cybersecurity approaches, techniques and solutions to date have been about preventing attacks or exploits as they occur, or rapidly finding and mitigating breaches after they've happened. The first line of defense should not be sprinting to fight security fires after they've already started, but rather about being proactive and avoiding breaches before they happen.
If that sounds interesting, I welcome you to request a free risk assessment, and, while you're at it, check out the other two innovative vendors that Gartner mentions in this year's Cool Vendors report.
Gartner "Cool Vendors in Security and Risk Management Software for Technology and Service Providers, 2018" by Deborah Kish, Elizabeth Kim, Avivah Litan, Matthew T. Stamper, May 1, 2018.