It's 2.30 pm and you're done for the day. Well, not really done-done, but you're drained, tired, zonked.
If you were in the office, this would be the time when you'd stretch your legs, chat with someone, or walk up to a buddy to grab a cup of coffee. But you're at home.
You've got the handle on this sheltering-in-place thing (sort of). The kids are crushing their distance learning assignments (and Minecraft).  Your partner and now co-worker has been doing their part around the house (for five minutes per day). You've adjusted to the constant sense of worry over the macroeconomic situation (you keep telling yourself as you click refresh on cnn.com).
But you've had enough adulting for one day.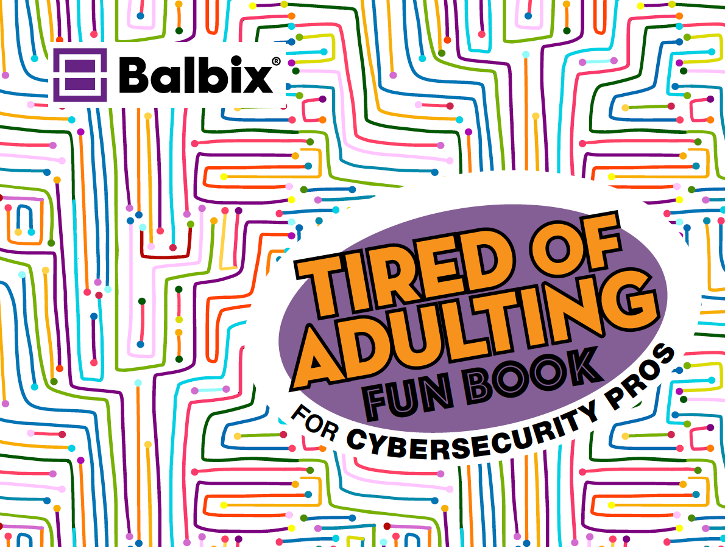 You need a distraction (while still feeling like you're doing something that is vaguely related to "work").
Rings true?
Our latest (and greatest) "Tired of Adulting Fun Book" is for cybersecurity pros like you who love to give their brains a little bit of a workout. So print it out, and go hide under your bed with a handful of colored pencils. It'll be fun. We promise.
Try out the crossword, unscramble the anagrams, spot the differences, and complete the coloring pages. Take a little break from whatever it is that you need a break from.
But wait, there's more
Parents. Have you downloaded our first ever cybersecurity activity book for kids yet? It has puzzles, games, coloring pages to keep kids busy with infosec themed activities.
And while you're here, check out our popular comic strip – Adventures of CISO Ed & Co – Pandemic edition for some chuckles that are sure to feel so real.