Today, we are excited to announce our new partnership with Verizon Cyber Security Consulting to deliver the next generation of AI-powered cyber risk management to organizations across the world. We will be working with Verizon Cyber Security Consulting primarily in the areas of cyber risk assessments, data aggregation for risk modeling, cyber risk quantification and SEC cyber regs compliance.
In recent years, the enterprise cybersecurity attack surface has exploded. In a typical Fortune 500, the amount of data that needs to be analyzed per day to produce an accurate picture of cyber risk is 100TB to several petabytes. This is impossible for humans to do – even if you have a small army of cybersecurity professionals in your infosec team. 250 people need 10 lifetimes to just view a petabyte of data!
As a result, most organizations do not have an accurate big picture of cyber risk that is transparent and actionable. There is a lot more ad-hoc (rather than data-driven) decision making in cybersecurity.
Fortunately, this is a perfect problem to be solved by combining forces leveraging specialized AI-powered models from Balbix supervised by human experts from Verizon Cyber Security Consulting Services to deliver better cyber risk management for your organization.
Verizon Cyber Security Consulting is world-renowned for cybersecurity expertise and recognized for influential thought leadership such as the Data Breach Investigations Report (DBIR) and Payment Security Report (PSR). The team serves as trusted advisors across private and public sector customers, investigating cyber threats, assessing risks, defending infrastructure, and ensuring enterprise security and compliance. Verizon Cyber Security Consulting, through its Cyber Risk Programs, fuse industry-leading human expertise with unique threat insights from nearly two decades of data breach analytics and unparalleled global network telemetry.
A lot more details to follow…
If you don't know much about Balbix, our platform enables enterprise security teams to identify, prioritize, and mitigate IT/network and application vulnerabilities in a maximally automated manner, while reducing risk on all parts of an organization's cybersecurity attack surface. Balbix is already deployed in dozens of the Fortune 500 as well as smaller public companies, and leverages data from your existing cybersecurity tooling.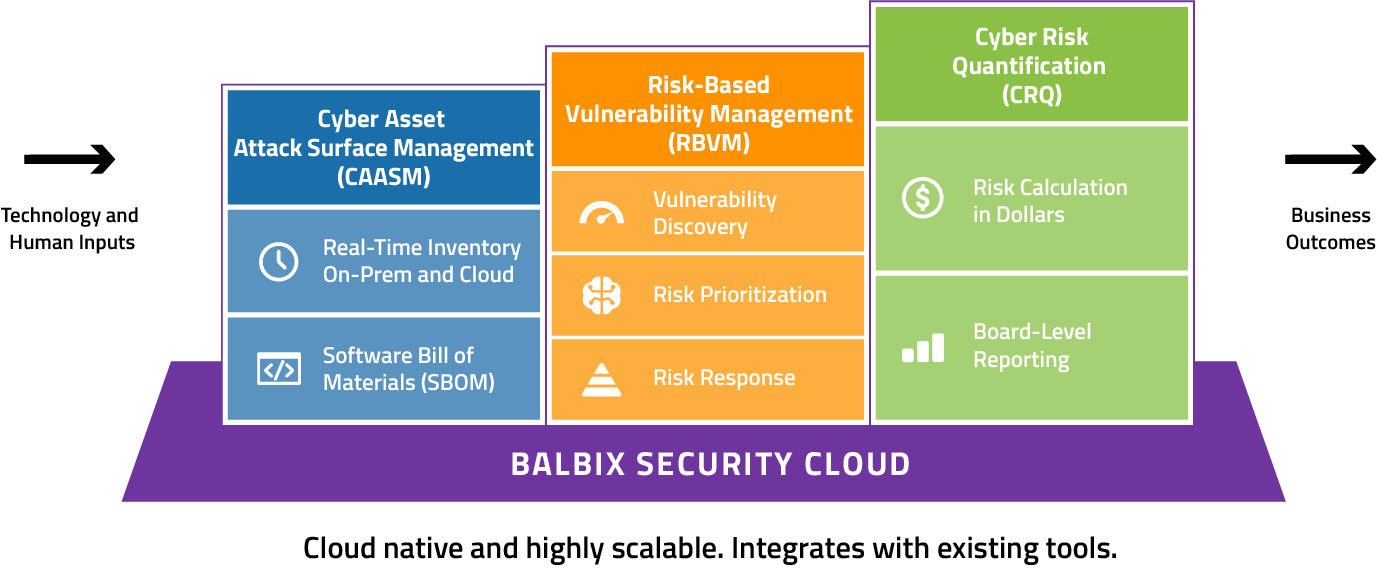 As an example, for compliance with the new SEC cyber regulations, the Balbix platform has the following relevant capabilities.
Asset Inventory: The crux of SEC requirements is about identifying and mitigating material risks. But, accomplishing this is convoluted because enterprise data is distributed across different IT, security, and business systems. Balbix helps build a unified and comprehensive inventory of all assets and applications to help organizations determine whether an incident or threat is material.
Continuous Risk Assessment: The SEC now also requires organizations to periodically disclose their cybersecurity risk management strategy. To address this, Balbix provides a real-time, data-driven, and traceable system that shows risk distribution across different teams or locations and actionable steps (some in progress) to bring risk down to acceptable levels.
Cyber Risk Quantification (CRQ): Balbix's CRQ analyzes data from internal tools and external threat intelligence feeds to identify the likelihood of a breach and estimates monetary impact. Balbix's CRQ enables CISOs to articulate cyber risk to executive leaders and board members in monetary or financial terms consistent with how market, credit, and operational risks are communicated.
Going back to our partnership with Verizon Cyber Security Consulting, we are thrilled about this opportunity, and we look forward to sharing more information soon.
In the meantime, if you want to learn more sign up for the Balbix demo or contact your Verizon representative.