What is patch management?
Patch management is the process of identifying and installing updates (otherwise known as patches) to software in order to close security gaps, correct errors or update features. Patch management requires staying current on available patches, deciding which patches are needed and validating that they have been properly installed. Patch management ensures that digital assets in your organization are not susceptible to exploitation.
Common technologies that require patches include operating systems, applications and network equipment. A software vendor will typically issue a patch when a security risk is found in any of their products with a suitable modification that closes the security issue. It is important for your organization to apply patches as quickly as possible after they are released because your adversaries are constantly looking for unpatched systems to exploit and gain access.
Challenges with Patch Management
Patch management is a critical part of cyber security – the faster a security gap is closed, the less opportunity there is for an attacker to exploit a vulnerability. However, as the volume of vulnerabilities in the network continues to grow, and the complexity of the IT infrastructure increases, patch management becomes a daunting task for many security teams. Patch management is especially challenging if you use a traditional approach that requires you to manually check for, identify, test and install patches on an ongoing basis.
Traditional patch management was designed for legacy environments where organizations had few assets deployed. Those assets were also mostly Windows or Linux systems. Typically, those assets were known and monitored by IT and were physically located inside the enterprise network (on-premises) all of the time. But times have changed as organizations have introduced more mobile (and bring-your-own) assets into their environments and migrated big chunks of their IT infrastructure to the cloud. All types of internet of things (IOT) devices are also now part of the enterprise, and operational technology (OT) systems are increasingly connected to enterprise IT networks. The growth in work-from-home arrangements has also significantly impacted where an enterprise's assets reside.
The threat landscape has also changed with new vulnerabilities and exploits now appearing every week. With each new vulnerability or exploit disclosure a race starts between attackers, who want to weaponize the new vulnerability, and security teams who have to scramble to update their systems with security patches.
A transformation of the enterprise "network" and the threat landscape has made patch management less straightforward. It's no longer as simple as updating  software on your systems once every few months. Additional complications include the fact that certain systems cannot afford to be disrupted for long periods of time, and the fact that all potential software updates must be thoroughly tested before installation. Furthermore, some devices are more critical or more exposed than others and need to be prioritized immediately. Unfortunately, traditional vulnerability management approaches are not equipped to handle these new and evolving requirements.
Another issue is that organizations often lack the expertise to test, deploy and install patches in a timely manner. With new vulnerabilities constantly discovered and with the attack surface growing every day, it's critical that these tasks are performed as efficiently as possible.
Unfortunately security teams also find themselves misapplying their scarce resources to fix issues that pose little risk as they don't have the ability to accurately prioritize assets and vulnerabilities. This leaves potentially high-risk vulnerabilities exposed and open to attack. Lack of sophisticated patch management also means security teams can't measure and drive improvement on key metrics such as mean-time-to-patch (MTTP) and mean-open-vulnerability-age (MOVA), leading to greater levels of risk across the organization.
Why do we need patch management?
Patch management is important for the following key reasons:
Ransomware prevention: Patch management is necessary to prevent ransomware attacks. Applying patches as soon as possible can go a long way toward stopping cyber attackers from exploiting vulnerabilities in your network and subsequently compromising business operations.
Compliance: With the continued rise of cyber attacks, organizations are often required by regulators to comply with specific best practices and standards for system configuration. Implementing patch management is necessary to stay compliant with today's security regulations.
Improved functionality and performance: Patch management goes beyond fixing flaws in software. Software patches often provide upgrades that include new feature functionality and improved performance.
Obsolete software identification: Patch management solutions can discover software in your network that is end of life or no longer supported. Such systems need to be decommissioned as they may pose security risks to business operations.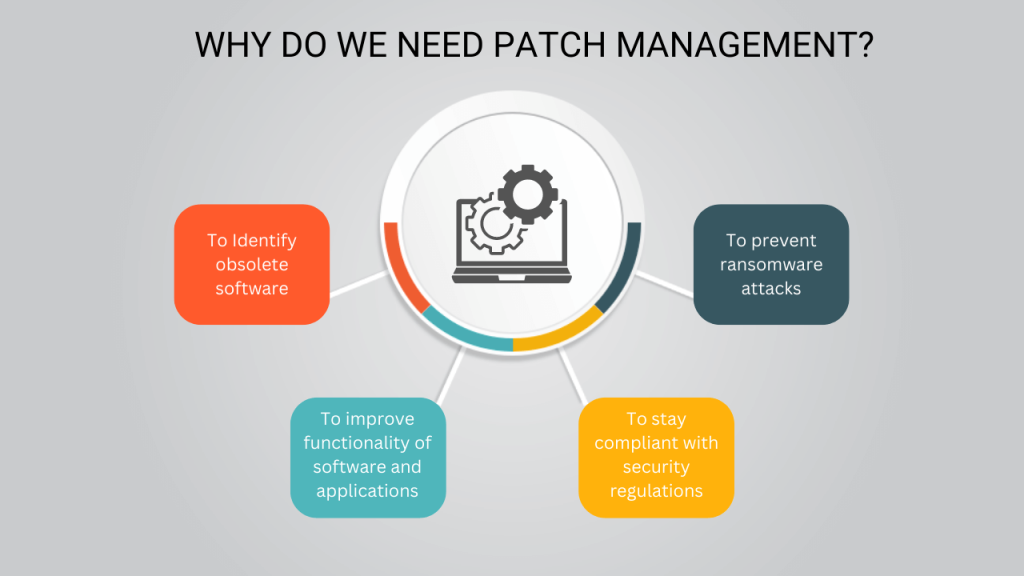 The patch management process
An efficient patch management process is crucial as fixing vulnerabilities helps to prevent cyber attacks. It's also a way to ensure that all digital assets run the latest software versions and operate smoothly.
To establish a strong patch management process, you should:
Know what to protect  
The first step in the patch management process is to determine what assets are in your network so you know what you need to protect. Without an accurate and up-to-date asset inventory that is real-time, highly accessible, and continuous you run the risk of overlooking critical endpoints or leaving systems unpatched.
Prioritize vulnerabilities 
Once you have developed an inventory of all your assets, a risk-based vulnerability management platform can help you identify and prioritize vulnerabilities that pose the biggest threat to your organization. A risk-based solution is critical because even the best resourced security teams find it hard to address the right vulnerabilities and keep up with the sheer number of new vulnerabilities that arise every day.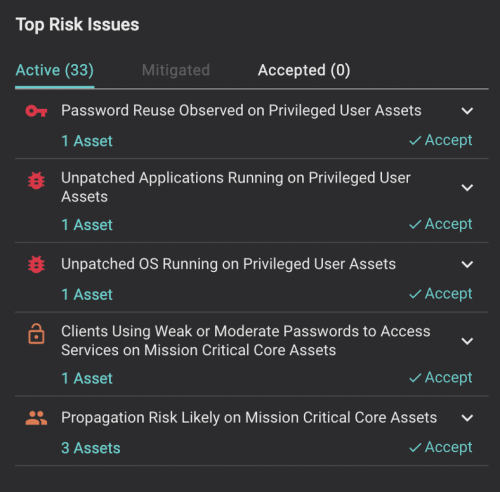 Deploy patches fast
After assets have been discovered and vulnerabilities have been prioritized, the next step is to deploy patches to reduce the risk in your environment. Automated vulnerability tools offer the ability to continuously discover patches from vendors and streamline patching at scale.
Report your progress 
The last step in the patch management process is to track and report on your organization's patching posture to confirm all fixes have been installed. By tracking metrics, like MTTP and MOVA, you can show if your patching efforts are improving your vulnerability management program.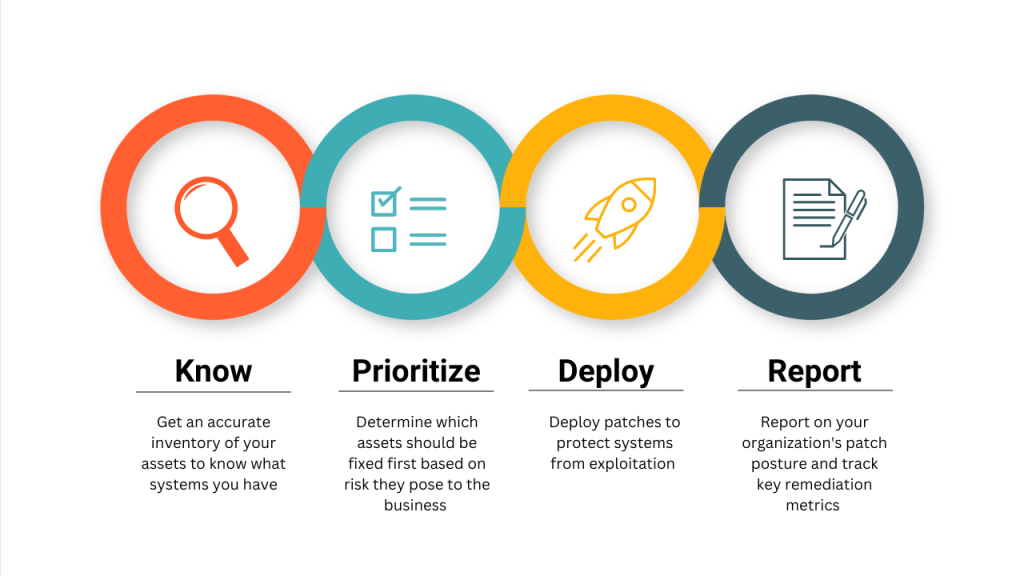 How can your organization benefit from an efficient patch management program?
An efficient patch management program reduces the risk of unpatched systems being exploited by continuously identifying your enterprise's vulnerabilities, checking for availability of patches, and then systematically rolling them out to the appropriate assets.
Benefits of an efficient patch management program include:
Better visibility of your attack surface: More assets and vulnerabilities mean a growing enterprise attack surface. An effective patch management program helps you identify the points in your network where you are exposed to an attack.
An accurate inventory of all assets: Understanding what you are trying to protect is key to reducing cyber risk. An effective patch management program includes the maintenance of a continuous and real-time inventory of all its assets and systems.
A more secure environment: When you regularly patch vulnerabilities, you can better reduce and manage risks that exist in the network environment. As a result, your organization is less exposed to a cyber attack or security breaches.
Increased remediation efficiency: Not every vulnerability presents the same security risk to operating systems. An effective patch management program ensures that you aren't racing to address issues that pose little or no real risk to your business-critical assets. Instead, patches are accurately identified and prioritized so your team can patch what matters.
No unnecessary fines: An effective patch management program helps you stay compliant with security standards so you aren't hit with fines from regulator agencies.
Patch management best practices
Here are some best practices to keep in mind when implementing patch management.
Prioritize your patching activity according to the business criticality of your assets and the likelihood of them being breached.
Use an automated patch management solution to efficiently discover and deploy patches.
Use reports to track your patch management posture and drive improvements on key metrics such as MTTP and MOVA.
Deploy critical patches as quickly as possible so that your organization's systems are not vulnerable to compromise.
Develop a clear patch workflow to ensure your systems are regularly patched and that emergency patches are deployed in a timely manner.
Hold teams accountable to drive risk owners to do their part in managing patches.
Keeping systems patched with Balbix
Balbix continuously assesses enterprise's cybersecurity posture and prioritizes open vulnerabilities based on business risk so that organizations like yours can maximize the impact of your patching efforts. The Balbix platform understands and learns your business context, considers the value of each asset to your business and takes into account vulnerabilities, active threats, exposure due to software usage and any mitigating controls already implemented in your enterprise.
Balbix also prioritizes vulnerabilities and enables you to act on mitigation steps appropriate to the unpatched system such as patching, accepting risk or using compensating controls. Balbix also recommends the patches that most efficiently address the maximum number of open CVEs for an application in order for security teams to more effectively reduce risk. Plus, you can report on your patching posture using customized dashboards to track and show key metrics like MTTP and MOVA.
Frequently Asked Questions
What is patch management?

Patch management is the process of identifying and installing updates to existing software, computers, servers and technology systems in order to mitigate security vulnerabiltiies across the enterprise.

Why is patch management important?

Patch management fixes vulnerabilities on assets that are susceptible to an attack, helping organizations keep its network secure and reduce its cyber risk.

What is the patch management process?

Create an inventory of all assets

to know what systems you have and what needs to be patched. 

Prioritize vulnerabilities

to determine which assets need to be patched first and remediate more efficiently. 

Deploy patches

to protect your systems from a possible cyber attack. 

Report progress

to track your patch posture and improve your patching strategy.

How can your organization benefit from an efficient patch management program?

An organization can benefit from an efficient patch management program by gaining:

Better visibility of its attack surface.
Accurate inventory of all its assets.
Identification of all vulnerable systems.
A more secure environment.
Increased remediation productivity.
Regulatory compliance.