As the newest Balbix-er on the block and first in Europe, when I was offered the chance to write about why I joined Balbix, I jumped at it. I chose Balbix for three reasons:
The mission (or what the company stands for)
The culture (the people that make up the company and their values)
My charter at the company (the work I'll be doing on a day to day basis).
Let me elaborate.
Measuring Cyber Risk is a Huge Challenge
I spent the last 5 years at ServiceNow, leading solution sales for risk and security solutions in South of Europe. Prior to that, I have been both a CISO and a cybersecurity expert delivering cybersecurity and risk management consulting to support customers in their cybersecurity transformation. So, as a cybersecurity veteran, I have seen the enterprise attack surface evolve and grow exponentially over the years. For an enterprise with hundreds of thousands of assets in its inventory, each susceptible to myriad attack vectors, measuring cyber risk is no longer a human scale problem. This is a challenge that Balbix is tackling head on, and I wanted to be a part of this. To address this challenge, the Balbix platform allows infosec teams to automate their cybersecurity posture visibility and management, gathers data on assets and vulnerabilities across the attack surface, and then translates it into real business context. Balbix's industry leading cyber risk quantification offering enables CISOs and infosec teams to quantify and measure their cyber risk in monetary units and report to senior management and board in business terms.
My Charter at Balbix
As the Europe Head of Sales and Business Operations, I will expand the European GTM and help organizations automate their cybersecurity posture management and quantify their cyber risk. I will also be building the local team and strengthening relations with the European customers and partners. I see 3 main challenges to tackle here in Europe as we see a growing number of cybersecurity incidents.
Exponential growth of the attack surface 
As anywhere in the world, European organizations are facing similar challenges. An exponential growth of their attack surface, deperimeterization of their environment accelerated by the pandemic and employees working from home with its accompanying cybersecurity concerns (backups, patches, BYOD network devices configuration…). This cannot be managed manually anymore and organizations need to adopt an automated risk based approach for managing their attack surface. Continuous monitoring with AI driven business context prioritization must be implemented to ensure a strong cybersecurity hygiene.
Cybersecurity skill shortage
On another hand, it's harder to find new skilled cybersecurity professionals and then to retain them. Automating their mundane tasks, making their job more appealing, and removing unnecessary frictions will help organizations improve efficiency and attract and retain talent.
Business driven cybersecurity conversations
Bridging the gap between cybersecurity and business in order to make more informed business decisions and gain top leadership support is key to having cybersecurity be a driving force in innovation and business growth, but so far we have struggled to bridge the gap and find the right language to talk to the board. AI-driven automation in security operations and for cyber risk quantification, to translate technical data into business terms, is the way forward to bridging that gap.
Balbix is the right technology to adopt in order to be able to tackle these urgent challenges. With its powerful platform, innovative use cases, Balbix enables organizations to:
Automate continuous cybersecurity posture management
Measure and reduce their attack surface
Quantify and report on cyber risk to leadership and the board
The Balbix Core Values
While the Balbix technology is at the cutting edge in the industry, the real "deal-maker" for me was the team of people I met as I was exploring this opportunity at Balbix. In each of my conversations be it with the leadership, engineering, marketing, sales, or the people team, the values that Balbix holds dear came across loud and clear. The Balbix culture is built on five core values: customer focus, grit, innovation, honesty, and velocity. And the ones that stood out to me were customer focus – because as a sales leader, I value a company that has a laser focus on the needs of the customer – and velocity – because in cybersecurity, the bad guys move fast, so the defenders must be faster.
I truly appreciate the critical role that a startup company's values play in making it great for employees, partners, and customers and so for me, choosing to join Balbix was really a no-brainer.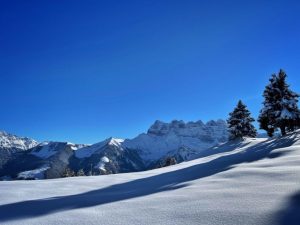 Bringing My Whole Self to Balbix
While I am passionate about cybersecurity, I believe in taking occasional breaks and getting outdoors to rejuvenate. And there are opportunities galore for me! I live in the Alps in a ski resort, in front of "Les Dents du Midi", a wonderful 7 peaks ridge (photo, above), so I am quite active in outdoor activities like mountain biking, gravel biking, bike packing, and skiing. I have already found a community of skiers and fellow outdoors people at Balbix and connected with them virtually. Hope to do this in person soon.