I love a good IKEA DIY project. Other folks just don't want to spend their free time on a Sunday assembling furniture. I understand. But, imagine you've got no choice and just have to assemble that bed frame. You start the process but the pieces don't fit. Frustrating?
This is exactly what many of you expect to go through when integrating a new tool in your infosec process. It may be worth it in the end, but you will hesitate to start if it looks like too much work.
The Challenge of Integration
Most cybersecurity tools aren't designed for easy integration. Getting a new tool to work seamlessly with your existing stack is frustrating. Users are left to figure out how to bridge the different data models and formats. Furthermore, integrations can be technically complex – with many tuning options and configurations, SDKs and APIs requiring navigation and time investment from engineering teams. Lastly, integrations can't always handle data at scale in a reliable and timely way; even though the operational logistics of quickly and consistently getting data from one tool to the other are always important.
Cybersecurity tools should be designed to talk to one another. They should speak the same language.
Desired Characteristics of an Integration Process
A pleasant integration process has three desired characteristics: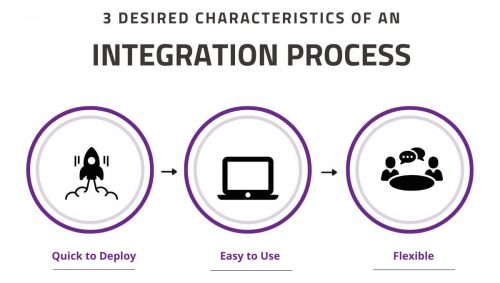 Quick to Deploy
Integrating new tools often requires a great deal of configuration management and expensive professional services engagements just to get things working. You and your team are busy and cannot afford to have downtime just for integrating a new piece of software. The budget owner of the new software also wants a quick return on their investment, and the clock is ticking. The longer it takes to integrate software the more you delay ROI.
Subscribe to our blog
Stay up to date with the latest cyber security tips and news.
Cybersecurity tools should be designed to enter a small handful of configuration values, hit enter, and the rest happens automatically with no intervention necessary.
Easy to Use
An influx of information can be overwhelming. The harder it is for your team to use a new tool, the greater the likelihood that you won't use it and won't realize the benefit from investing in the product.
You want your dashboard to be simple, easy on the eyes and efficient. Once you have all your data loaded in the new tool, you want to be able to find it easily.
Flexible
Everyone likes a view from their balcony, but ask five people what view they'd prefer and I'm certain each one would respond differently. Similarly, each business is different and there's no out-of-the-box UI and data model that's perfect for all.
Take cybersecurity posture management for example. Cloud-first companies may only be interested in seeing their cloud assets while other organizations may want to see a hybrid view of on-premise and cloud assets. A system admin may want to only see Linux/UNIX, macOS, or Windows systems, while their manager may want to see all three. Similarly, one vulnerability manager may be more interested in monitoring their MTTP where another is focused on exception tracking. Likewise, geographical business and IT leads will want to see the specific assets and risk issues in their regions.
Tailoring your solution to fit your situation can be a game changer, but that's usually not the case with most applications.
The Balbix Integration Experience
Quick to Deploy
We take the time before and after you commit to Balbix to understand your process and the tools you already have in place. Balbix pilots with enterprise-wide scope using production data. It only takes a few hours to plan and, with our built-in connectors, it only takes an hour to implement dozens of integrations that use APIs or file-based data transfers. Since Balbix is a SaaS solution, there is no on-premise infrastructure required.
Easy to Use
Once data ingestion begins, Balbix automatically brings together automated capabilities that combine risk data with business context. As a result, your organization can eliminate months of time required to operationalize cyber risk quantification and speed up the discovery and remediation of your highest-risk vulnerabilities. Your data and the model itself are continuously updated, which means you have a seamless experience. On the rare occasion that you do face an obstacle, the Balbix customer satisfaction team is only a click and a few minutes away at support@balbix.com.
Flexible
Our customer satisfaction team works with you through the integration process every step of the way, from understanding and defining your cybersecurity goals, to setting up customized dashboards that are unique to your situation and organization. These dashboards help you gamify the process of cyber risk reduction by making sure that all risk owners have exactly the right information, the right tools and the right incentives to do their part in risk management.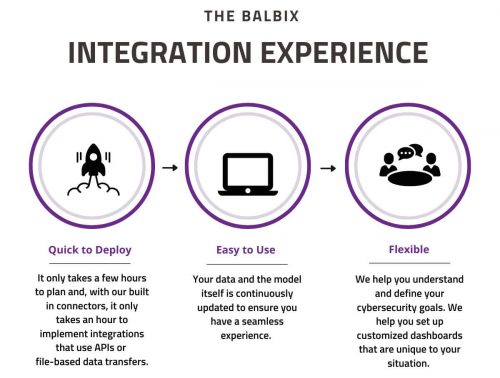 For more information, request a demo, and see how you can integrate your existing tools with Balbix.